Network and Data Center

Software Overview | Features and Menu | Pricing and Agreements

Success Associates Technical Specifications:





Certifications:
HIPAA
FISMA
SARBANES-OXLEY
GLBA & SAS-70 TYPE II
ISO 9000
Safe Harbor
Network:
Multiple tier-1 carriers with diverse building entrances
Fully redundant Cisco architecture using 7206VXR, with Catalyst 2924, 3508, 3524 and 6500 series switches
HSRP failover protection
Border Gate Protocol (BGP4)
GigE network feeds
Dual NOCs monitor all equipment from inside and outside the network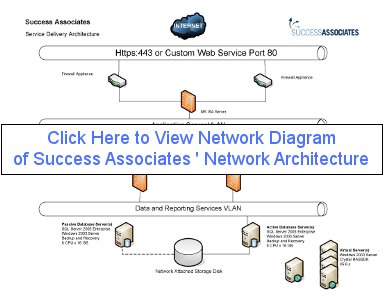 Power Systems:
Compaq UPS with 120, 208, 220VAC

100% diesel generator backup (regularly tested)

Fuel capacity exceeds 24 hours

Fuel delivery contract with 1-hour guarantee

Custom-designed Power Distribution Units
Environmental Controls:
Internal and external cooling units

Constant n+1 ambient air temperature of 68° (+/- 5°)

Automatic humidity controls for 45% (+/- 5%)

Internal air cleaning systems ensure data center is kept dust free

Hardened and secure structure
Security and Access
24x7 on-site technicians

Multiple layers of 24x7 security cameras, proximity card readers, biometric access controls and key pads

Double-locking mantraps at data center entrance

All cabinets, cages, and suites have locking mechanisms

Facilities are monitored with 24-hour DVR systems and 14-day off-site video storage

360-degree perimeter and roof surveillance

Physical audit trails on all entry points

24x7 break-in, smoke, heat and fire alarms monitored by police and fire departments for instant reaction
Fire Suppression Systems
Pre-action, dry-pipe sprinkler rated for telecommunication equipment/computer room

Class "A" multiplexed addressable building system

Integrated smoke/heat detector system

Online Security:
Utilizing QualysGuard® vulnerability and management solutions, our hosting facilities are subjected to frequent on-going security scans which proactively identify and remediate network vulnerabilities, measure and manage risk and ensure compliance with the latest in security standards.

Continuous Data Protection (CDP):
Iron Mountain LiveVault online backup and recovery solutions automate and integrate the entire data protection workflow. From continuous data protection (CDP) through offsite storage, archiving and guaranteed data recovery, LiveVault online backup and recovery solutions deliver unparalleled client data protection.

All data is completely secure and carefully protected, using the same stringent measures, protocols and standards that financial institutions use to protect their data. All data is encrypted with a unique key prior to transmission. For an additional layer of protection, Secure Socket Layer (SSL) is used to establish a secure, resilient communication tunnel to the offsite storage facility.