Features and Menu - Software as a Service

Related links:

| Software Overview | Network and Data Security | Pricing and Agreements |

Get Started Immediately

Low Cost Fixed Price Subscription Agreement
Annual subscription for less than the average cost of one executive search

Price not dependent upon or adjusted by the number of records in your database
No Set-up Fees
Your logo is prominent on the application screens and reports at no charge

Many data fields are configured to your choices in terminology at no charge

User security is configured at no charge

Initial data transfer (upload) of employees', positions' and training courses' data at no charge
Start up Software Training Included at No Charge
Ongoing User Support Included in Your Basic Subscription Agreement
Online help is integrated on every screen in the system

We provide live WebEx, phone and email support - see our service level agreement for details

Success Associates is committed to go above and beyond to ensure your success.
Flexible Plans for Data Transfer Services - The One Optional "Extra" Service Fee
The first upload of basic employee, position and course data is free of charge as mentioned above.

As changes occur in your organization, all data can be updated manually - new hires, terminations, title changes, reporting relationship changes and so forth at any time. To make all these changes automatically and at once a "refresh" of the data upload is more efficient.

Different organizations have different needs for periodically uploading extracts from their HRIS or payroll system to update this data.

You can choose to update manually, purchase refresh support as needed, or purchase a bundle of refresh support services.
Free Upgrades and No Surcharges
Any and all enhancements we implement during the term of your contract are at no charge.

Any third party software component license price increases we experience are paid by Success Associates.
Graphic User Interface Introduction
Here is a brief introduction to the Success Associates software as a service graphic interface.
Our frame of reference is from a combined HR and IT practitioner's point of view drawn from over 20 years of experience.
At the heart of our software is process content that is proven simple yet powerful and globally replicable.
Our software solution features ease of use, comprehensiveness, and extreme reliability.
Customers access the software through a secure connection using login credentials provided.
Home Page Basic View
System functionality is organized in folders in the navigation bar on the left under the blue "Explore" tab.
A mouse click on any folder in the explore navigation list opens it to an expanded view of the contents.
The five icons in the upper right corner appear on every screen as short cuts to the following 5 common tasks:

Return to the home page

Search for a record or build a set of records to work with

Access the online help function

Email the system administrator

Log off the system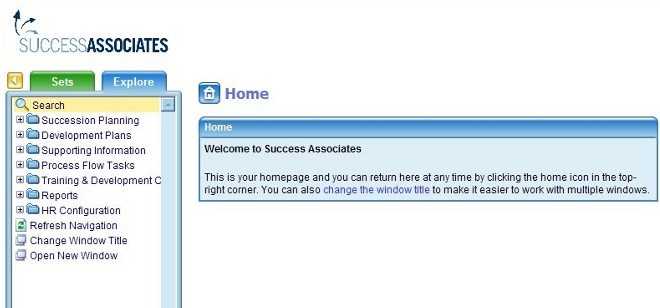 "Explore" Tab Folders Expanded View
The following screen displays the contents of the "Explore" tab with all the menu folders expanded.
During set-up we can "hide" functionality you choose not to use - and of course bring it back later at any time.
The "Report List" item in the navigation menu was selected. Standard reports organized within the report folders display.
Full organization charting is also available through the interface.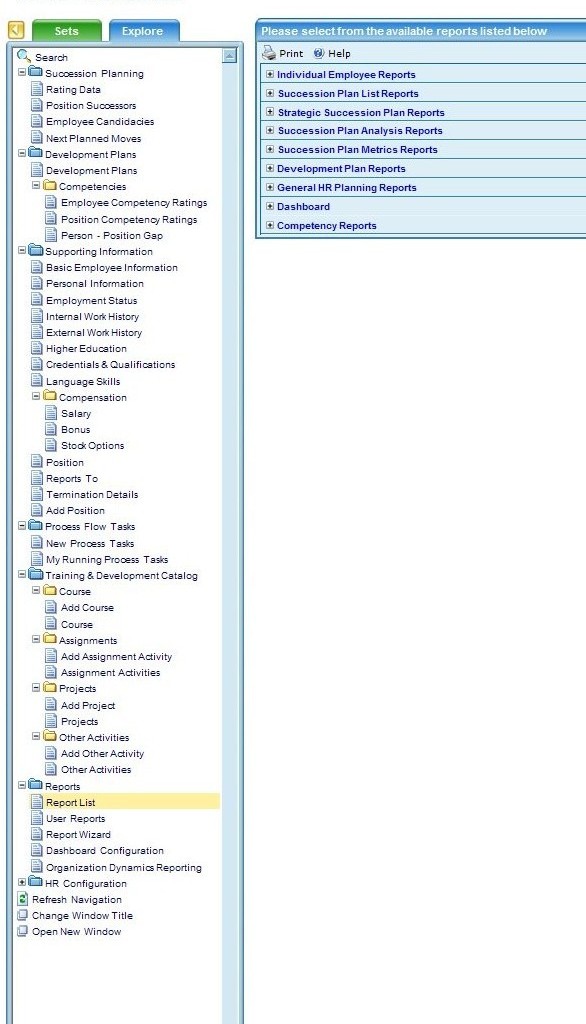 "Sets" Tab Selected with Reports Folders Opened View
"Sets" functionally provides the ability to create the set of records you want to work with.
Sets can be created to work with different types of records for example a set of employees or a set of positions.
Sets are created by specifying various criteria for the set. Sets can be easily edited by adding or subtracting records in the set.
With this example set of employees, if you click on a "list" report this set will be applied to the report.
If your interest was seeing an individual style report, simply highlight the name in set on the left and the report on the right.
Or you can create the entire set of individual reports to view or print. This is a real time saver.
Sets of records you use regularly can be saved for future use.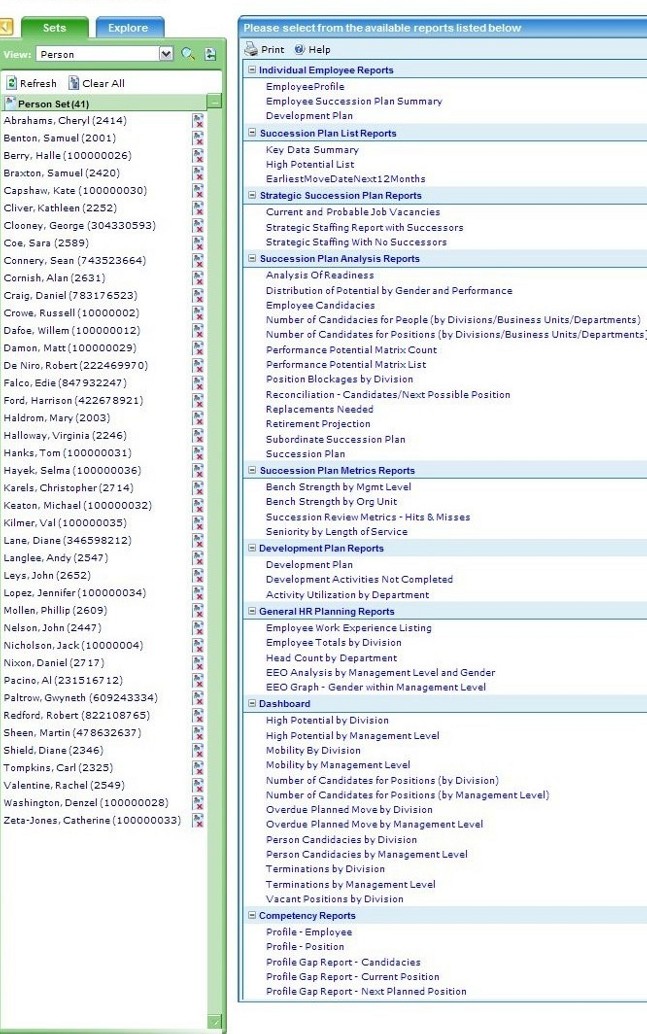 For more information
Software Overview summarizes information on the following topics:
Network and Data Security addresses the following topics:
Technical certifications

Network description

Network architecture diagram

Data center power systems

Environmental controls

Security and access

Fire suppression systems

Online security

Continuous data protection
Success Associates welcomes the opportunity to provide you a live software demonstration via WebEx.
To arrange for a software demonstration please click here Request a Free Webinar.
Or return to Success Associates home page.